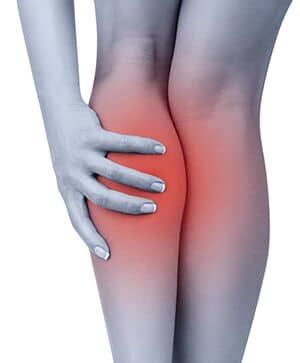 Could You Have a DVT? How Would You Know?
What is Deep Vein Thrombosis?

Deep Vein Thrombosis (DVT) is a medical term that is used when a thrombus develops within a deep vein. A thrombus, also referred to as a blood clot, can form within any of the deep veins. However, DVT often develops within the deep veins of the pelvis or legs.
What are the Causes?
Three conditions contribute to the development of DVT:
• Damaged, inflamed, or irritated vein walls
• Blood that clots quicker than is typical
• Blood that travels at a slow pace throughout the veins
There are many factors that promote the development of the above three conditions and, hence, DVT:
• Age (the risk becomes greater as you age)
• Inactivity (e.g. bedridden due to injury or sickness, prolonged sitting when travelling)
• Pregnancy or given birth within the last six weeks
• Using hormone therapy or birth control pills
• A BMI of 25 or over
• Smoking
• Surgery
• Injury
• Physical conditions which include, but is not limited to, stroke, heart disease or failure, cancer, lung disease or failure, high blood pressure, varicose veins, and blood clotting disorders
• Cancer treatments
• Previous personal diagnosis or family history of pulmonary embolism (PE) or DVT
The list of factors above is not exhaustive.
How Serious is DVT?
The seriousness of DVT should never be underestimated. DVT can lead to post-thrombotic syndrome or a PE. Post-thrombotic syndrome arises a vein becomes damaged, leading to heightened blood pressure within the vein. This heightened blood pressure damages the valves within the affected vein, resulting in blood pooling at the affected site. Post-thrombotic syndrome can impair quality of life due to symptoms, such as pain. A PE arises when a thrombus becomes dislodged from a deep vein. At this point, the thrombus becomes known as an embolus. If an embolus is transported to and becomes lodged within an artery of a lung, a PE forms. A PE can damage organs and result in death.
What are the Signs and Symptoms?
If you experience any signs or symptoms of DVT or PE, you must get medical attention immediately.
There are several typical signs and symptoms of DVT:
• Warm skin
• Limb swelling
• Tenderness or pain
• Skin appearing discolored or red
• Swollen or thickened veins
• PE
The above lists of the signs of symptoms of DVT and PE are not exhaustive. Less typical symptoms may be experienced (e.g. pain in your back, feeling dizzy, etc.).
What is the Treatment?
Treatment may be surgical or non-surgical. Your doctor will determine the relevant treatment. You can easily contact us if you feel you relate to anything you have read in this article.
CLICK HERE TO REQUEST AN APPOINTMENT
**Disclaimer-The contents of the Pinnacle Vein and Vascular Center site, such as text, graphics, images, and other material contained on the PVVC site ("content") are for informational purposes only. The content is not intended to be a substitute for professional medical advice, diagnosis, or treatment. Always seek the advice of your physician or other qualified health provider with any questions you may have regarding a medical condition. Never disregard professional medical advice or delay in seeking it because of something you have read on the Pinnacle Vein and Vascular Center site.