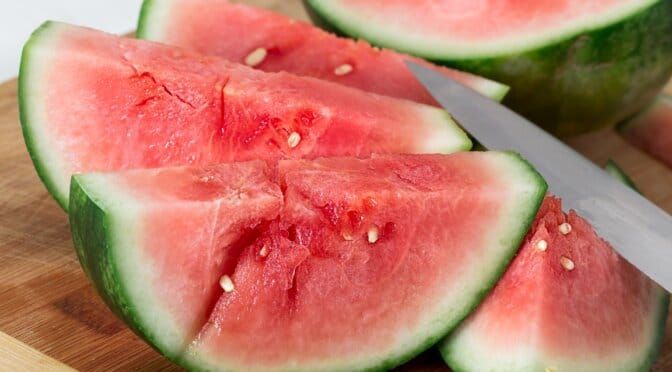 Improve Blood Flow by Eating Those Watermelons!
Let's face it. Watermelons are a family favorite. While somewhat cumbersome when buying from the store, bring home a giant, ripe, fresh watermelon for the family, is exciting!
Not only are watermelons tasty and super fun to eat in many ways (we will post our favorite way at the bottom of this article – and believe us, you have to try this if you have not), but watermelons pack some healthy punches too.
As you may already know watermelons are full of…… you guessed it, water. Water and staying hydrated is a great way to improve you blood flow. But that's not all!
Watermelons have L-citrulline, an amino acid which has been shown to improve blood flow! To get a little technical for a moment, L-citrulline can help your body optimize blood flow when it eventually converts to L-arginine, and then will convert to nitric oxide after that. Nitric oxide is what is need to help in vasodilation (dilation of the blood vessels). Proper dialation of the blood vessels = better blood flow!
A good 'ol watermelon slice is definitely a fav of ours, but we also like to take a mellon baller and scoop out 5-10 balls of watermelon. Thrown them in a baggie and toss in the freezer for a few hours. After they have frozen, pour yourself a glass of water and add the water melon balls as ice cubes! It flavors your water and adds for a slushie surprise ad the end! Enjoy!
So go out and get yourself (or order up) a juicy watermelon!
Disclaimer-The contents of the Pinnacle Vein and Vascular Center site, such as text, graphics, images, and other material contained on the PVVC site ("content") are for informational purposes only. The content is not intended to be a substitute for professional medical advice, diagnosis, or treatment. Always seek the advice of your physician or other qualified health provider with any questions you may have regarding a medical condition. Never disregard professional medical advice or delay in seeking it because of something you have read on the Pinnacle Vein and Vascular Center site.