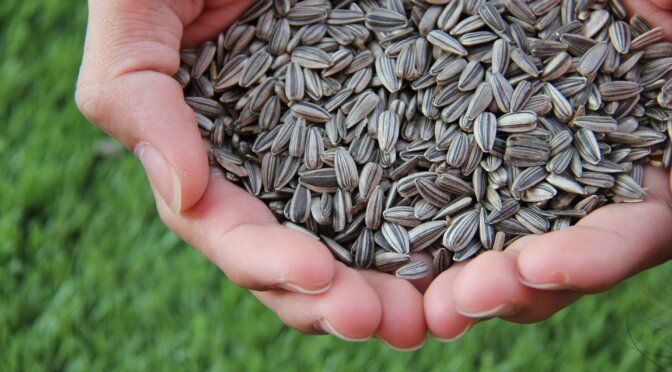 SEEDS for Circulation!
We can't believe it either but fall is on it's way! This means we are gearing up for some of our fall favorites that help with blood circulation!
Of course one of our top picks is PUMPKIN SEEDS! Soon you will see pumpkins in all the stores and pumpkin seeds will be readily available. They are great to roast for a hot treat, sprinkle on salad or even top your favorite cream cheese bagel!
Top 3 reasons we love pumpkin seeds:
Pumpkin seeds are stuffed with tons of antioxidants that can help protect against disease and reduce inflammation.
Pumpkin seeds are extremely rich in magnesium. Magnesium goes to work supporting your blood pressure, your blood sugar and bone and heart health!
Nutrients in pumpkin seeds may help keep your heart healthy by lowering or reducing your blood pressure and giving that good cholesterol a boost!
Next up we have SUNFLOWER SEEDS!
This summer/fall favorite is such a power packed treat! You can enjoy these by the handful, on salads, mixed in smoothies or even sprinkled on some toast!
Here's why we love sunflower seeds:
THEY PACK IN THE VITAMIN E! Why is vitamin E so good for us? Because Vitamin E helps forming clots in the blood. Olives, many other nuts and our other favorite, pumpkin seeds provide a powerful dose of vitamin E as well.
SO next time instead of reaching for those greasy chips, grab a handful of healthy seeds instead!
Disclaimer-The contents of the Pinnacle Vein and Vascular Center site, such as text, graphics, images, and other material contained on the PVVC site ("content") are for informational purposes only. The content is not intended to be a substitute for professional medical advice, diagnosis, or treatment. Always seek the advice of your physician or other qualified health provider with any questions you may have regarding a medical condition. Never disregard professional medical advice or delay in seeking it because of something you have read on the Pinnacle Vein and Vascular Center site.